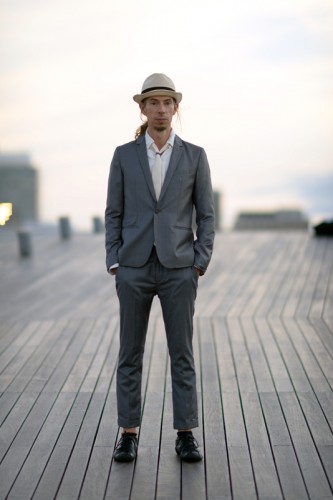 Minimalized is the photographic home of Benjamin Robins.
Born and raised in Melbourne, Australia, Benjamin studied Architecture at the University of Melbourne, completing his degree with honours in 1998.
During his architectural studies Benjamin also had a keen interest in photography and undertook various studies on the subject. Prior to graduation he started a part-time job in a Melbourne wedding-portraiture studio, Tilnak Collections, now know as Lifestyle Portraits, where he worked with Darren Tilnak, one of Melbourne's leading portait photographers.
Following graduation from the University of Melbourne he established Digimite, a partnership servicing the architectural industry with computer-aided visualisations and animations for various architectural firms and construction companies. In addition he did freelance wedding, portraiture and architectural photo-shoots.
In late 2000 Benjamin moved to Tokyo, with intentions of pursuing a career in Architecture. Prior to moving to Japan, Benjamin sold all of his camera gear and purchased a sole Leica M6 and 50mm F1.4 Summilux lens. He stop shooting paid commissions and simply enjoyed taking photos during trips to Europe and throughout Asia. However, requests to start shooting weddings and portraits again led him to purchasing a few more lenses and take up some freelance assignments with a very basic Leica kit.
His Leica M6 and 2 lenses were tragically stolen on a trip to Thailand in 2004/5 while travelling on a night bus from Chiang Mai to Bangkok. He quickly replaced them with a Leica MP and 2 new lenses and continued to do more shooting in Tokyo. Now he uses the Leica M8 digital camera for all commercial shoots, preferring the simplicity of the Leica system.
Using natural lighting and outdoor settings when possible, Benjamin focuses on capturing the relaxed nature of his subjects. Specialising in shooting people, Benjamin can provide you with a professional set of images for your specific purposes. Please contact Benjamin for inquires on how he can help you produce the best images for your wedding, family portraits, portfolio, etc.